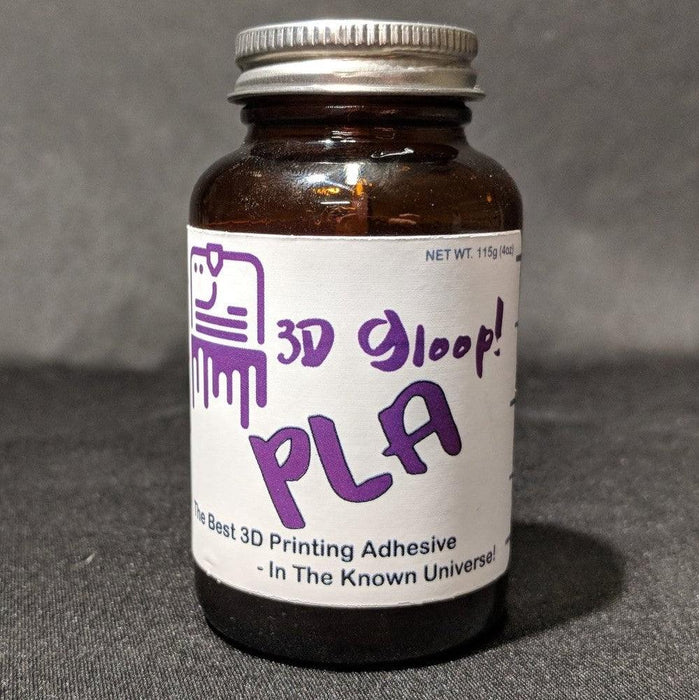 PLA Gloop! 
This product cannot be shipped outside of the Mainland of GB due to international shipping restrictions. 
Have you ever tried to glue your PLA 3D prints together? If so, what do you use? CA Glue? Epoxy? Let us guess, you've had something glued together with these inferior adhesives only to have the bond break? Honestly, its typical… And we feel your pain!
3D Gloop! is hands down the best adhesive for PLA 3D prints. Don't just take our word for it either! Check out what some of the popular youtube creators think of it!
So if you're tired of your glued PLA 3D prints falling short, give 3D Gloop! a try.
Perhaps a big bottle is too much for the work you do. We have squeeze tubes for precise applications of Gloop! Check em' out! Glue Gloop!

Oh! and we almost forgot! 3D Gloop! isn't just for gluing your 3D prints together either! It can be used as a bed adhesive too! PLA Gloop is specially formulated to provide the best bed adhesion on the market for PLA FDM printers. PLA Gloop! is designed to work on glass, AND mirror surfaces.
NOTE!: our 75ml bottles of Gloop! come with what is called an "Angled Reach" brush top. The brush is bent at a 45ish-degree angle. This is NORMAL and your product is NOT defective. Straight brushes are not able to reach the bottom of the bottle and thus, product would be wasted if the brush was not angled.
3D Gloop! is not recommended for use on Prusa style PEI coat build platforms. Most PEI sheets are compatible with 3D Gloop! but it is strongly recommended to test interactions in a small area or corner of your build platform with your specific printer. DO NOT use 3D Gloop! on any textured print surface as it will likely permanently fuse to it.