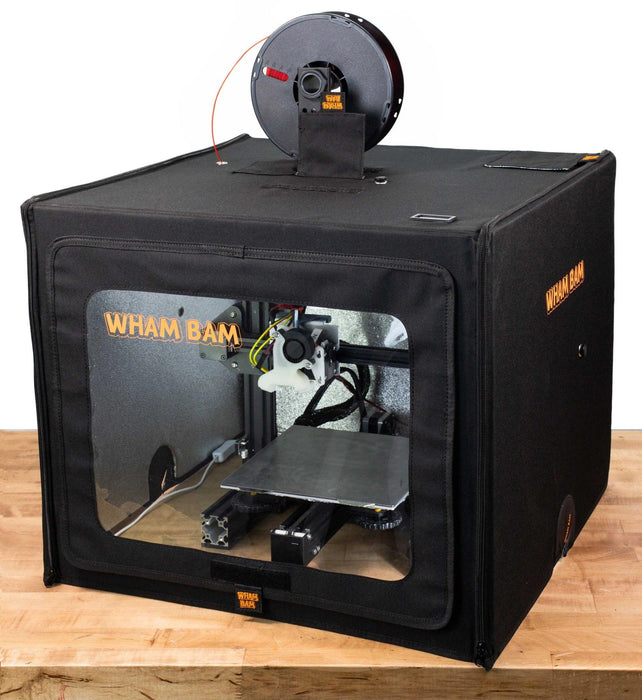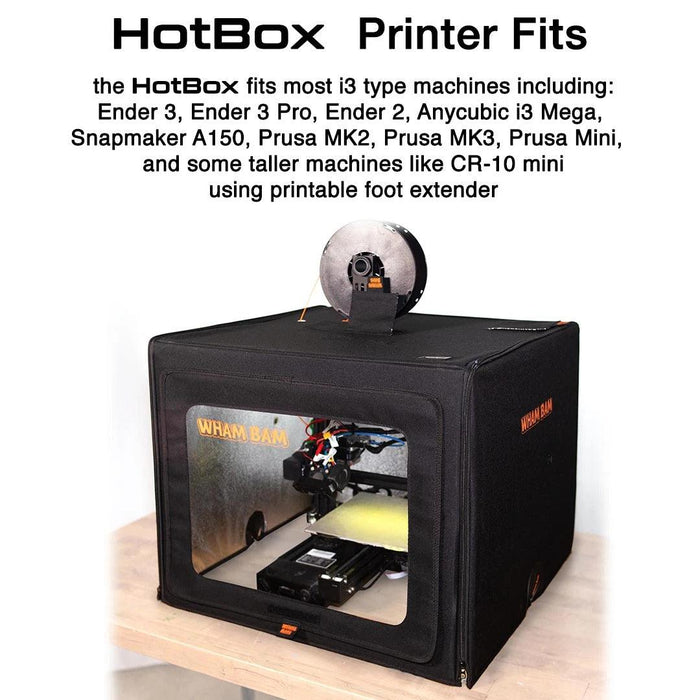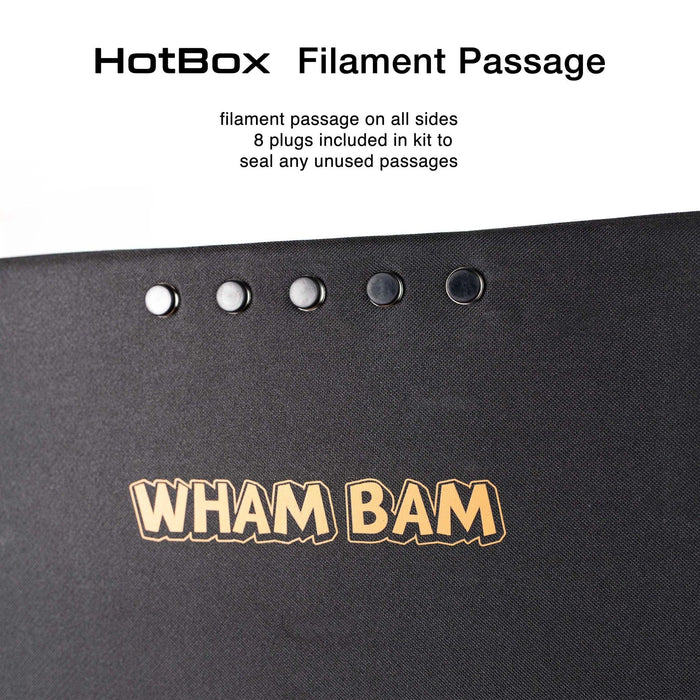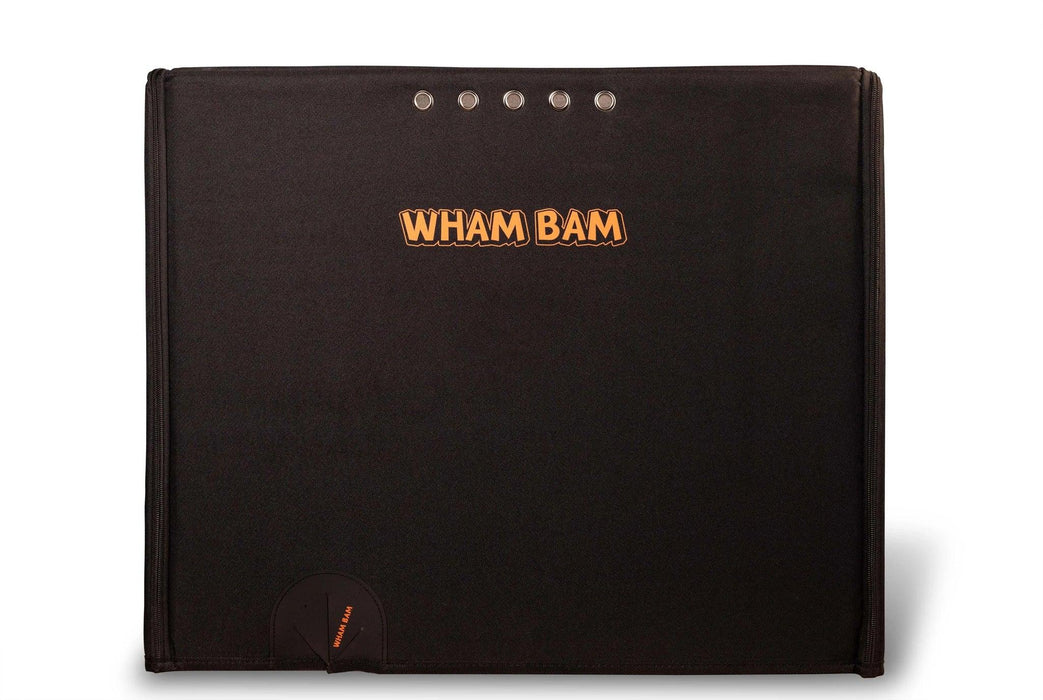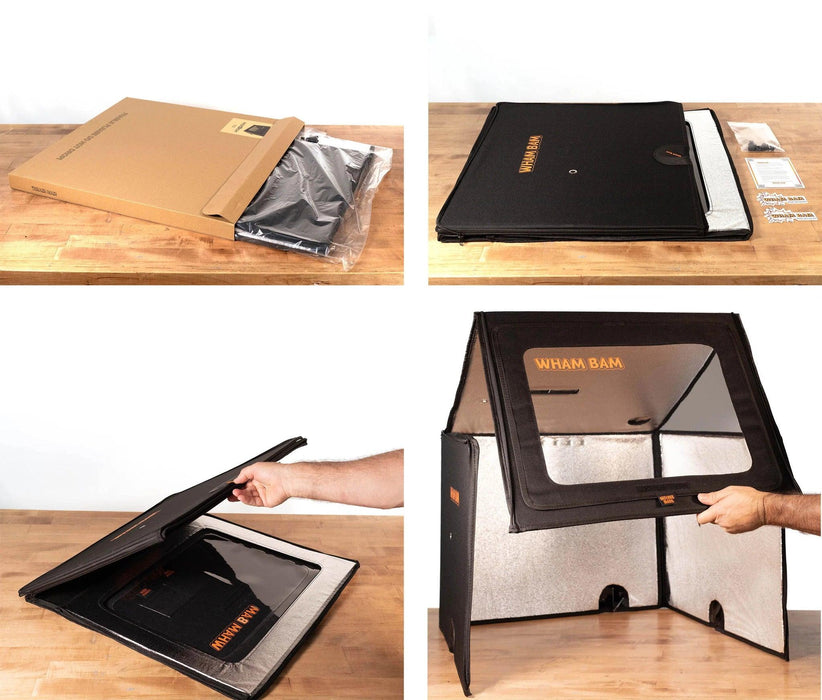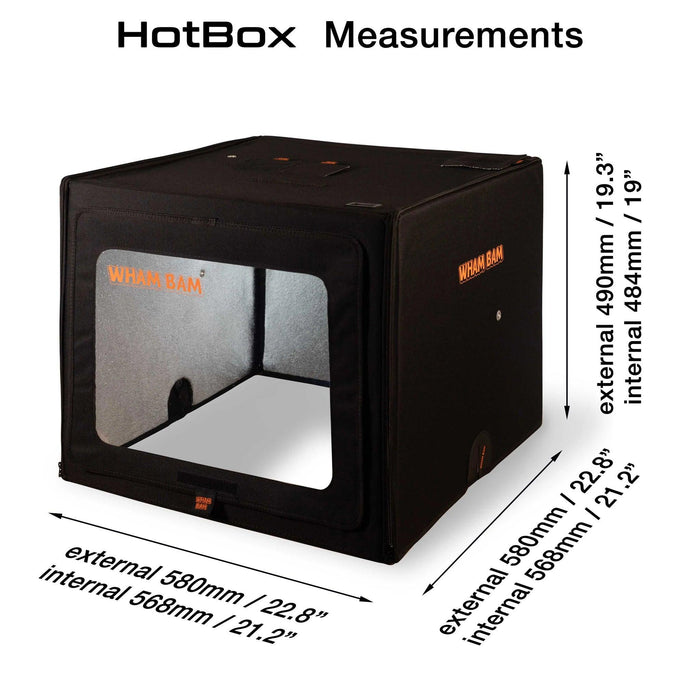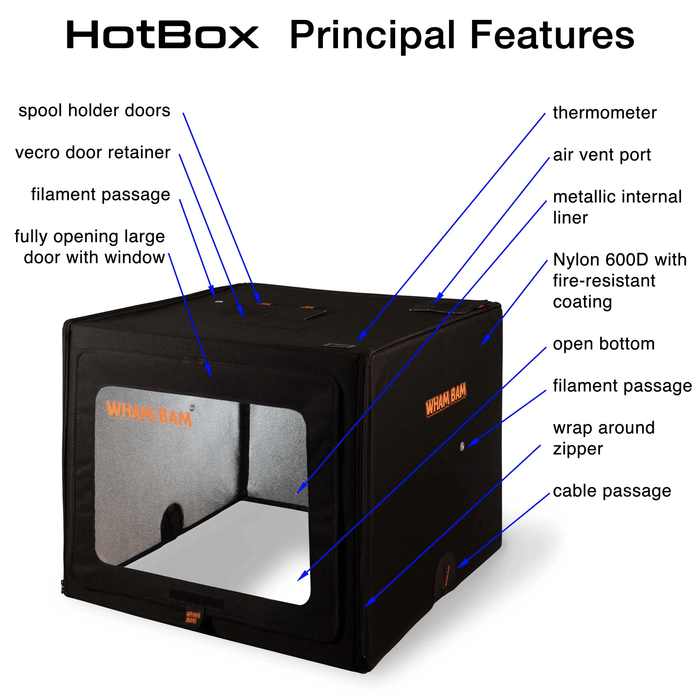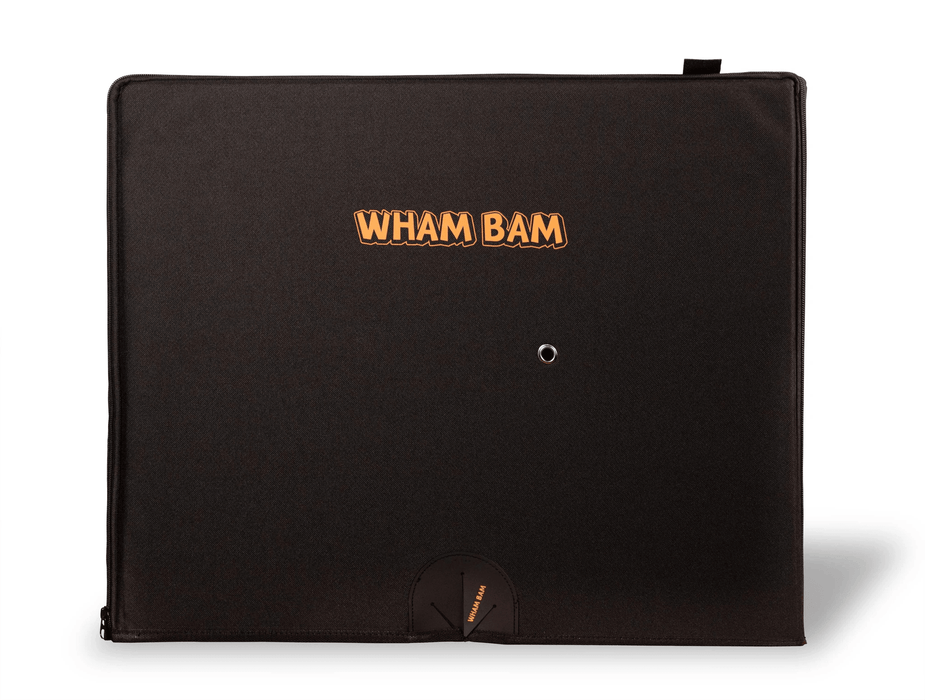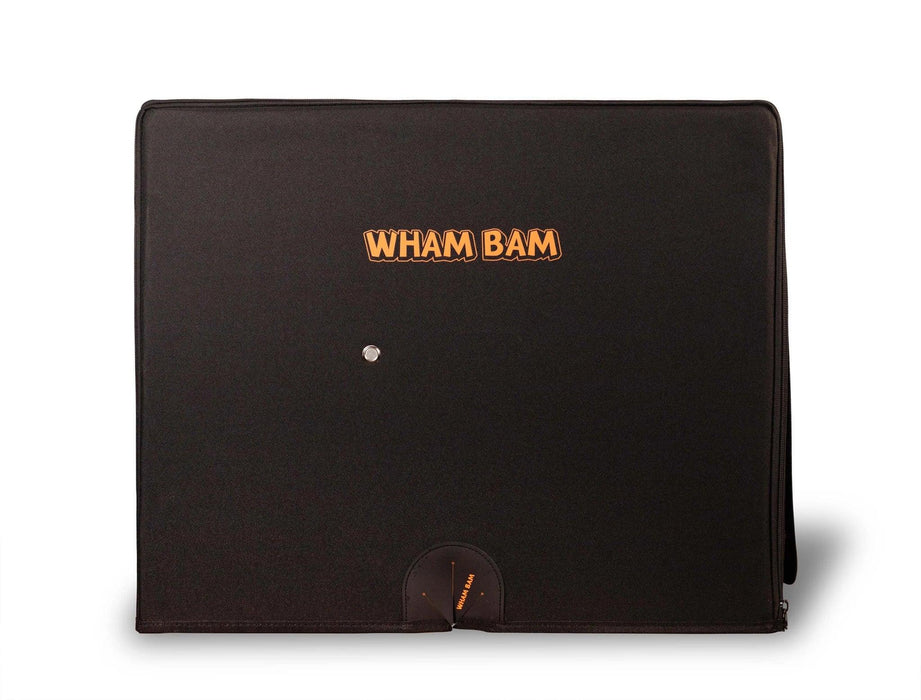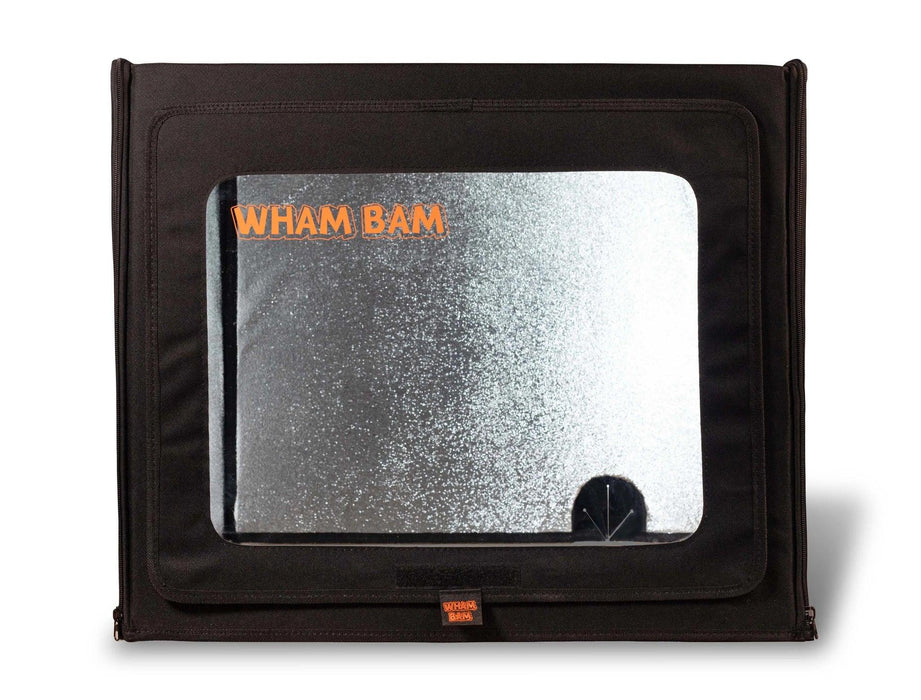 HotBox (V2) - 3D Printer Enclosure
The Wham Bam HotBox has a new and improved version 2 (or V2) and the following new features have been added to our lightweight, foldable 3d printer enclosure:
- An additional filament passage in the center of the top panel for direct drive printers
- 2 sets of loops to hold a LED light bar
- All of the access holes are now sewn along the seems

If you want to print ABS, Nylon, PC, and other high-temperature filaments, an enclosure is one of the best upgrades for your machine. The Wham Bam HotBox is a lightweight, easy to assemble, and easy to store away solution! 
Designed to fit many small 3D printers with enough room for a desk mounted spool holder or tool holder alongside your machine. The internal measurements are 568mm x 568mm x 484mm, 21.2" x 21.2" x 19" and has already been confirmed to fit:
Ender 3
Ender 3 Pro
Ender 2
Prusa MK2
Prusa MK3
Prusa Mini
Anycubic i3 Mega/Mega S
Geeetech A10
Snapmaker A150
CR-10 mini (using printable foot extender)
CR-6 SE (if you remove the handle)
See the HotBox in action, check out our HotBox YouTube Playlist
The HotBox is made of high-grade Nylon 600D fabric with fire-resistant coating and lined with a metallic heat deflecting internal liner that sandwiches around a strong, lightweight honeycomb insulating structure.
The front panel has a large clear window for maximum visibility and easily lifts up for full access to your printer. There is a velcro retaining strip on top to keep the panel open while working.
The top panel has an access door for spool holder passage and for the vacuum tube, and a built-in thermometer.

Features include:
Lightweight semi-rigid construction

Excellent insulating properties

3 cable exits, one each on the left, right and back panels

A large, transparent front window

Large opening for front access

Door for pass through top-mounted spool holder

9 metal lined filament passage holes, 5 on the back panel, 2 on the top panel, and one each on the left and right panels

9 plugs to fill filament holes when not in use

Built-in thermometer

Passage with cover for user-added aspiration and air filtering

Folds up flat, easy to store and transport

2 sets of loops to hold a LED light bar
Printable HotBox upgrades collection: https://www.thingiverse.com/psdesign/collections/hotbox
Wham Bam will be developing other sizes of the HotBox for other printers. If interested in having one for your printer, please fill out this form and we will try to include as many printers as possible and even give you an exclusive pre-sale discount for your help! http://eepurl.com/gNKQB9
We are also planning other HotBox accessories such as heaters and HEPA filter systems in the near future.
Product size: 580mm wide x 580mm deep x 490mm tall, 22.8" wide x 22.8" deep x 19.3" tall
Product weight: 3.1 kg, 6.8 lbs